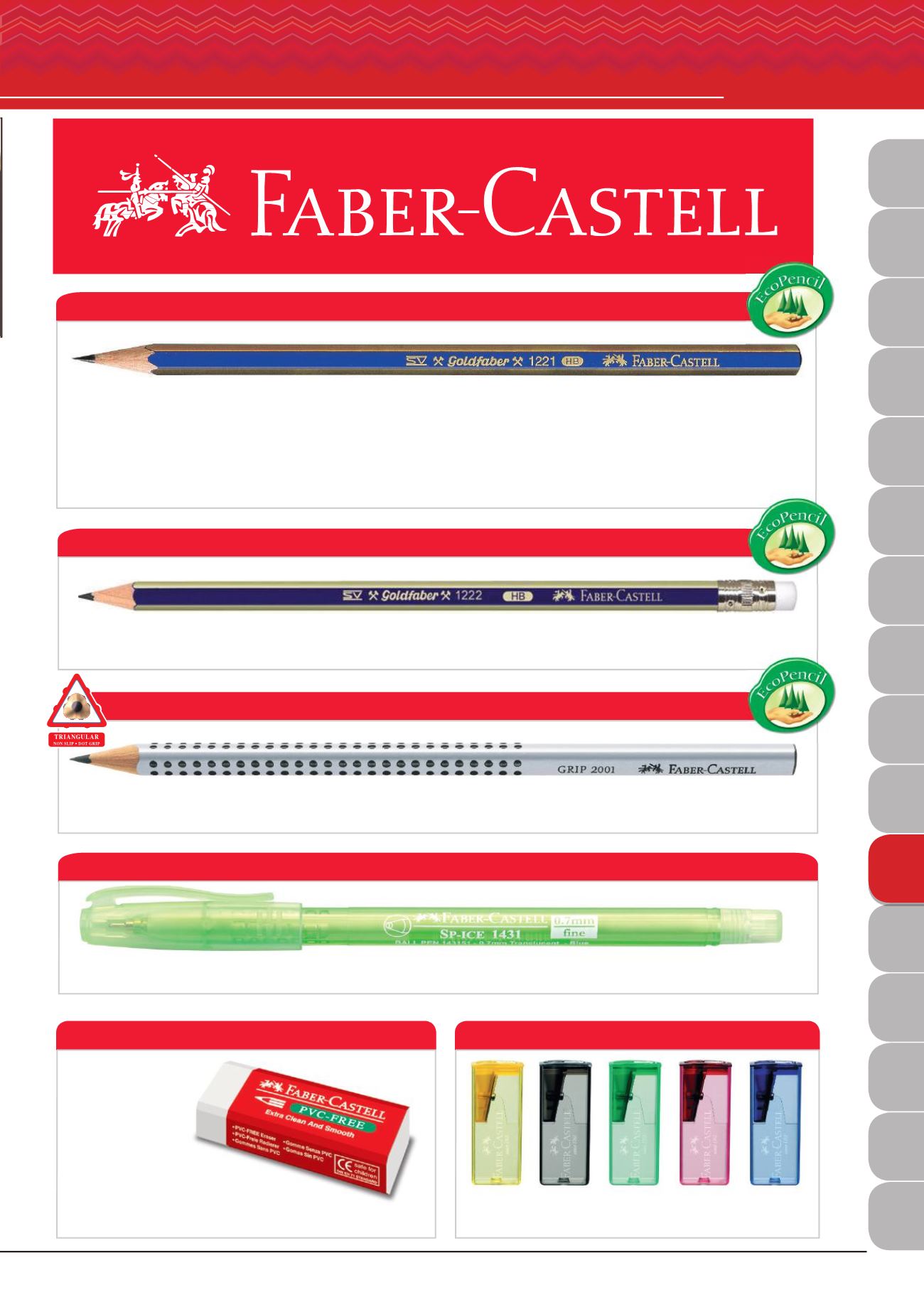 131
FABER CASTELL
BROTHER
BAGS
BUTTERFLY
BANTEX
DURACELL
HSTM
BIC
ESTRELL
3M
BOARDS
FABER
CASTELL
PAPER
PRO
BOSTIK
HENKEL
PENFLEX
ARTLINE
GOLDFABER 1221 PENCIL
RODUCT NAME
PRODUCT NAME
PRODUCT NAME
PRODUCT NAME
PLACE LOGO HERE
High quality graphite pencils. SV bonding process prevents breakages, dipped end. Boxes of 12
Available in 12 degrees of hardness.
A112500 HB
A112506 6B
A112501 B
A112510 F
A112502 2B
A112511 H
A112503 3B
A112512 2H
A112504 4B
A112513 3H
A112505 5B
A112514 4H
GOLDFABER 1222 HB ERASERTIP PENCIL
High quality HB graphite pencil with eraser tip. SV bonding process prevents breakages, quality white eraser. Boxes of 12
A116800
GRIP 2001 HB PENCIL
Top quality HB graphite pencils, ergonomic triangular shape with soft grip zone. SV bonding to prevent breakages.
Coated using environmentally friendly paint. Boxes of 12
A 317000
RODUCT NAME
PRODUCT NAME
1431 SP-ICE BALLPOINT PEN
Translucent body & cap in assorted trendy colours. Available in red, blue and black ink. Boxes of 10 pens
A143121ICB - Red Ink A143151ICB - Blue Ink A143199ICB - Black Ink
WHITE 7095 PVC FREE ERASER
Extra clean and smooth erasing,
comfort edge. PVC, phthalate and
latex free, individually wrapped.
A709520 - Box of 20
(62 x 21.5 x 11.5mm)
A709530 - Box of 30
(41 x 18.5 x 11.5mm)
CONTAINER SHARPENER
Plastic sharpener with clear waste box in assorted
fluorescent colours. Box of 25
A125FLV