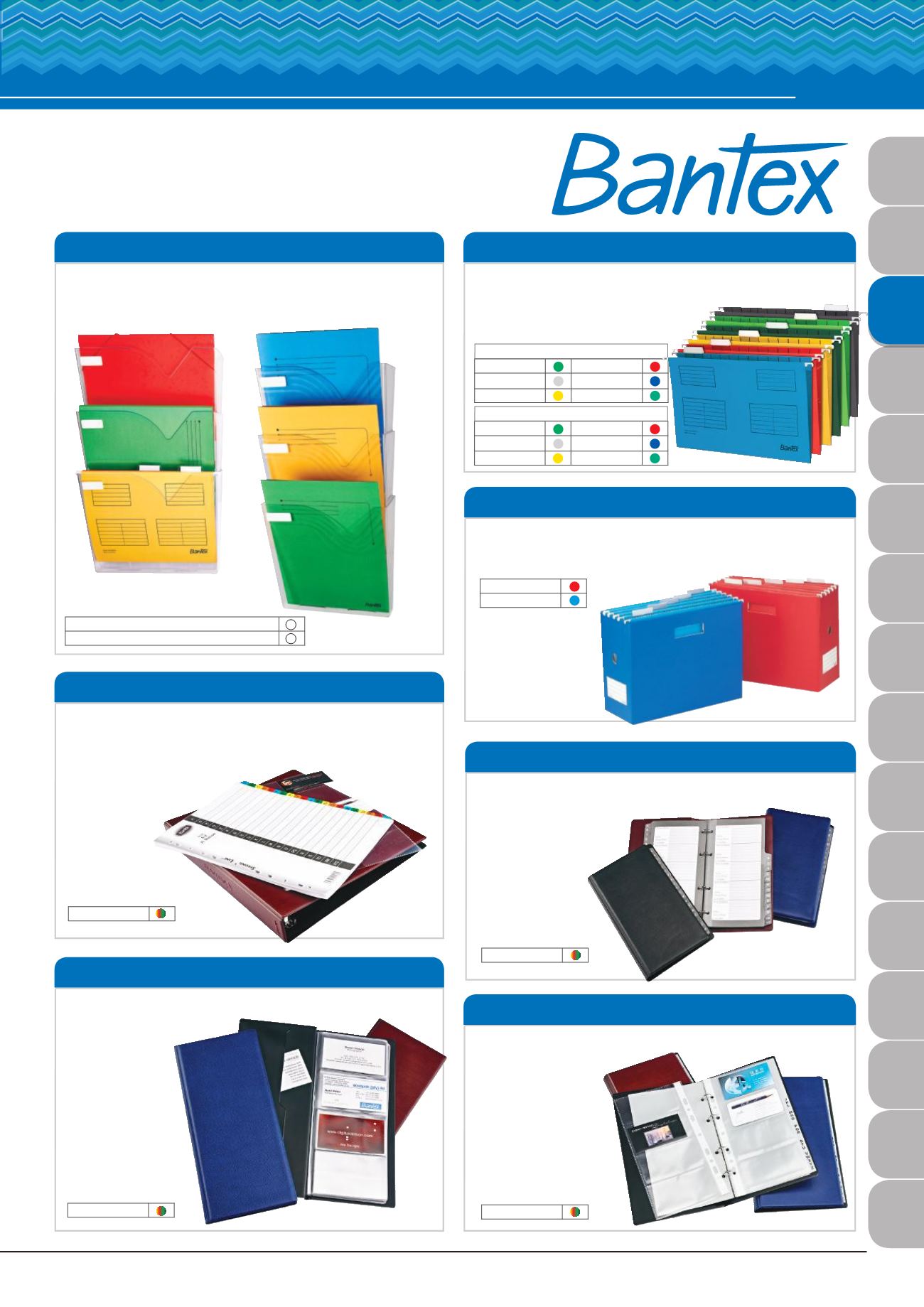 101
BANTEX
BROTHER
BAGS
BUTTERFLY
BANTEX
DURACELL
HSTM
BIC
ESTRELL
3M
BOARDS
FABER
CASTELL
PAPER
PRO
BOSTIK
HENKEL
PENFLEX
ARTLINE
Business Card Organiser Binder
A4, PVC cover with 30mm 4 D-ring mechanism. Includes x 20 A4
transparent PP business card filing pockets, reinforced multi-punched
edge. Each A4 pocket holds 20 cards: 600 card capacity. A-Z Mylar
tabbed index.
Telephone Index
Professional quality, 29 loose leaf page index for telephone, fax,
cellular and email data. Mylar reinforced tabs
and binding edge.
Deluxe padded PVC cover.
Business Card Holder
PVC Cover, 96 card capacity. 12 x clear PVC pockets fitted to the cover.
4 cards to view.
Business Card Holder
PVC cover, loose leaf with 12 clear removable PP pockets for 96 cards
and an A-Z plastic index.
4 cards to view.
Expandable to
192 capacity.
B592000000
B5923PRF00
B530100000
B590000000
Vision Wall Pocket Organiser
Swiss designed organiser for A4 documents and brochures. Easy to
mount. Creates extra workspace. Mounting hardware and pocket
labels included. Retail display packaging. 3 x Interlocking pockets.
A4 & Foolscap Suspension Files
Bright coloured tough Kraft with encapsulated steel rods.
Clear plastic tabs and perforated labels
inserts included. Box of 25.
B945100008 - Landscape / Horizontal Format
B945500008 - Portrait / Vertical Format
Suspension File Box - Portable
Collapsible laminated board box. 5 x A4 Kraft Suspension files. Plastic
tabs and label inserts included. Plastic edge protectors provide smooth
operation and stability. Printed index panel and convenient finger hole.
B346500009
B346500011
B346000004
B346000009
B346000005
B346000011
B346000006
B346000015
A4
B347000004
B347000009
B347000005
B347000011
B347000006
B347000015
Foolscap